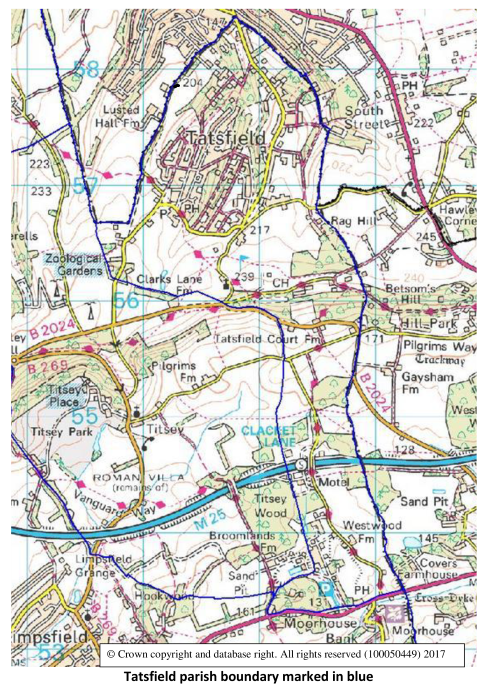 © Crown copyright and database right. All rights reserved (100050449) 2017
Tatsfield is in the extreme east of Surrey, tucked up against its borders with Kent and with Greater London. It is nine miles south-east of Croydon and 18 miles south of central London.
The village itself is in the north of the 1300 acre parish, close to Biggin Hill in the London Borough of Bromley. At that point it is about one mile across. The rest of the parish is a narrow, sparsely populated strip running south for two miles, crossing the M25 Motorway at the Clacket Lane Service Area. It then continues further south to the A25 Guildford to Maidstone road, just outside Westerham.
The North Downs Way from Farnham in Surrey to Dover in Kent also crosses the parish.
The more than 1800 inhabitants live in one of the highest villages in Surrey. Part of Tatsfield is 255 metres (837 feet) above sea level. Just outside, near Botley Hill, the land rises to 267 metres (876 feet). The lowest part of the parish is 140 metres above sea level.
One of the characteristics of the village - centred on its pond and village green - is its network of more than five miles of unmade roads.
In the village centre there are a village store & tearoom, Post Office, a pub, a restaurant and bar, a garage, the Tatsfield Club and the W.I. Hall.
The extended and renovated Village Hall was re-opened in March 1999. Nearly half the cost was met by a grant from the 21st Century Halls for England Fund, supported by the Millennium Commission. Surrey County Council, Tandridge District Council and Tatsfield Parish Council provided the rest of the money needed.
Close to the Village Hall are the former surgery, now known as the Aileen McHugo Building, opened in 1990. This is now let as offices, and includes the Parish Council meeting room and office.
Next door is Tatsfield School which moved to new premises at this site in April 2010. St Mary's Church with the Millennium Hall are isolated at some distance from the village centre.